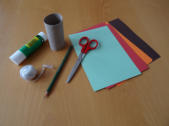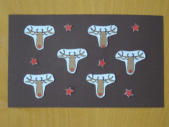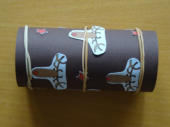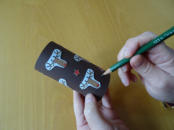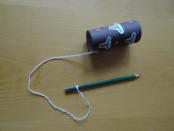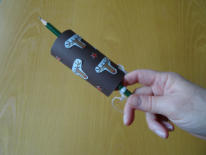 Did you know ? ? ?
Once
, among Inuits, this game was made with a
seal or a dog bone pierced. It was linked to a skull
of either a bird or fox using an animal tendon.
This game fascinated both adults and children.
They threw the skull into the air and tried to catch
it with the bone.
The very skillful players held the bone with either
hand, their elbow crease or they clutched it
between their teeth.
Now,
this game is made of modern materials and
takes different forms . . .
Will you be as skillful as them ?
To know, make your polar "cup-and-ball" and exercise yourself . . .
To make the puzzle you need

:
- recycled cardboard, paint,
- 1 m (about 40 inches) of string
or yarn,
- scissors,
- 1 hole punch,
- 1 paint brush,
- 1 pencil,
- 1 black marker
Cut a rectangle of 17cm X 10cm out of a colored sheet of paper.
Decorate it as you want . . .
either by drawing it or by pasting shapes cut from newspapers . . .
Paste the decorated rectangle around the toilet paper roll.
Put a rubberband around the tube to hold paper until it dries . . .
Using a needle or the tip of the pencil, make a little hole in the bottom of the roll.
Cut a piece of yarn or string 50 cm in lengh . . .
Pass one end of the yarn through the hole of the roll and make a tight knot . . .
Attach the other end of the yarn to the pencil by making several tight knots .
Have fun ! ! !
Throw the roll in the air . . .
Try to catch it with the pencil ! ! !
Make other inuit "cup-and-ball"
for your friends ! ! !